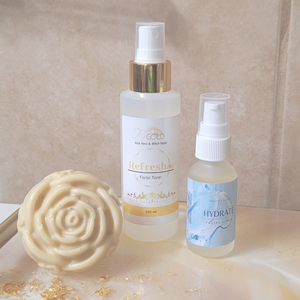 THIS IS A POPULAR ITEM & TAKES 7-14 DAYS TO FULFILL AT THIS TIME AS ALL ITEMS ARE HANDMADE! 💛 
Experience the ultimate self-care routine with our Pink Rose Soap Facial Cleanser, Refreshing Facial Toner and Hydrating Hyaluronic Acid Serum!
Pamper your skin with our Pink Rose Soap Facial Cleanser, a luxurious formula that gently cleanses and nourishes your skin. Infused with the delicate scent of pink roses, this cleanser leaves your skin feeling refreshed, rejuvenated, and oh-so-smooth. Say goodbye to dirt, impurities, and dryness, and hello to a radiant complexion.
Follow up with our Refreshing Facial Toner & Hydrating Serum to complete your beauty ritual. Enriched with revitalizing ingredients, this toner helps to tighten pores, restore pH balance, and prepare your skin for the next steps in your skincare routine. Experience the invigorating sensation of our Serum as it rejuvenates your skin, leaving it feeling hydrated, refreshed, and ready to take on the day.
Designed for those with dry skin concerns, our COMBINATION SKIN BUNDLE is the perfect trio to pamper and indulge in self-care. Elevate your skincare routine and unleash your inner beauty with our passionately crafted products.
  💛 Includes Pink Rose Soap, Facial Toner & Hydrating Serum
  💛 Gently cleanses, nourishes, and refreshes your skin
  💛 Tightens pores and restores pH balance
  💛 Leaves your skin feeling hydrated, rejuvenated, and oh-so-smooth
  💛 Perfect for those with dry skin concerns